5 Must Have Marketing Tools To Be Profitable Online
If you are in the Online Marketing space for the long haul, there are five marketing tools that are an absolute must. 
Like any other business, Marketing tools are essential to the process. Marketing online is no different.
You must invest in yourself i.e. professional development and invest in products and training so that you can stay within the trends of your niche.
I'm going give it you straight, NO  B.S.
Outlined below are  the exact marketing tools you need to market your business on the internet. So that you will be well equipped to start your business online successfully.
Lead Magnet or Bait- The actual offer that you will create to attract your ideal prospect. Think of something your prospect would want to solve a problem of theirs. It can be something small, you are giving it away, however it must be relevant.  Ex. Training, E-Book, PDF etc.
Lead Capture Page-A small website that is designed to attract your targeted prospect to your irresistible  offer. They will give your their contact information in exchange for your offer. (Cost: $37-$99 monthly)
Autoresponder– Once your prospect has given you their contact information, now you will build a relationship by emailing them current information about the niche you are solving the problem for. You can send them your blog posts, Live Videos, Training etc. You will continue to educate them on your product, service or opportunity. You can sprinkle a pitch here and there. The

majority

of the time your are educating. If you don't have an autoresponder, here's one we use and highly recommend. (Cost: $19 Monthly)
CRM- (Customer Relationship Management System) One of the biggest pitfalls in Small Business Owners is the followup. The CRM is designed to help you to never miss a follow up session with your prospect. It will also prompt you to take notes on what your prospect is looking for and problems you can solve. So when you speak to them again, you don't have to rely on your memory or go looking  notebooks or pieces of paper that your notes where taken on.  (Cost: $67-$99 monthly)
Blog – Your blog is your

real- estate

on the internet. There are a lot of blogs out there. However, you want total control of the content posted on your blog. Whatever you post on your blog will remain for years and years to come. Therefore, you can be in profit from one blog post for years. Blogging is that powerful. When done correctly you can rank on the first page of Google and enjoy the cashola coming in. I highly recommend wordpress. It gives you the flexibility you need to brand YOU. There is a small investment $15 monthly to host your blog.
Ok so you are probably saying what in the heck? This is pretty pricey.
I know exactly how you feel. I felt the same way fives years ago when I got started.
So I did it the hard way, by playing cheap. I only wanted to use free stuff. After 6 months, with zero results and totally frustrated, I came to realization that free is way too expensive. Free doesn't keep you up with the latest trends in your niche. Free doesn't help you build a relationship with your prospects, free has a lot of gaps, you don't get the full understanding from beginning to end. You get pieces here and there, only to leave you confused and overwhelmed.
Free keeps you in the dark and broke. The next move is to quit and say how it didn't work.
Since then I found a Marketing System that has not only the essential marketing tools to be in profit online, it has training on any online marketing strategy you want to learn about.
Now, My husband and I are leaders in our current company, we have a team that we train weekly and our team is in profit monthly.
The best part is we have the marketing tools to be successful and along with latest marketing strategies to get it done.
How would it feel to have your prospects reach out to you with their credit in their hand wanting to work with you or buy your product or service? Would it make a difference in your life?  Could you get some bills paid off?
Above I outlined some tools that would cost your about $200.00+ monthly or more. My husband and I don't pay anything near that for our quality tools.
We invite you to take a look at exact system we use to build our business. You can have access to everything for only $10 Bucks.
Oh didn't I mention that with this system you have done for you lead magnets that you can use to attract your ideal prospect and build your list?
If you are tired of struggling doing it your way, try a way that works  by
Clicking  here to get access to our Marketing System to Grow your Business Online. 
Did you get value from this post? Comment, Like and share with your team.
Your Servant Leaders,
P.S. If You Could Use More Leads, Reps And Money For Your Business You Might Want To Take A Peek At The System I Have Been Using- Click Here For Access!
THE TOP EARNER FRAMEWORK?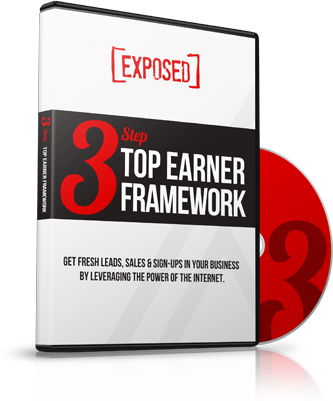 FINALLY Unlock the 3-Step Framework and Learn How to Get Fresh Leads, Sales & Sign-Ups in YOUR Business Leveraging the Power of the Internet.