One, Three, Five, Seven Network Marketing Formula
Network Marketing is a Better Way!
It's pretty ironic how people think.
If a person starts a traditional business, they expect to break even in their first few years.
Maybe payback their initial investment in the first five years.
When a person starts a Network Marketing business, they expect to get their money back in the 1st month, make profit in the 2nd month, and get rich by the 3rd month.
When that doesn't happen, they blame Network Marketing!
It has been proven that in life your income might take a lucky jump or you might be in the right place at the right t
ime.
However, if you don't quickly grow as a person to that new level, your income is going to come back down to the level of who you really are.
In the end, you only get to make what you are.
What have you heard About Network Marketing?
-You can get rich quick.
-There's no work involved.
-The product sells itself.
These are trumped up statements that will get you no where. Give them up!
Work on YOU!
The 1-3-5-7 Formula of Network Marketing
Here's a formula that has proven to work in our profession.
Here's the rule:
1.It will take you 1 year to become competent & profitable in Network Marketing. You will cover your expenses.
2.It will take about 3 years of consistent part-time effort in order to go full-time.
It will take about 5 years of consistent effort to become a six –figure earner or above.
It will take about 7 years of consistent effort to become an expert.
When you think about it, seven years isn't so bad, especially when a good portion of it is part-time.
10 Elements to The Formula of Network Marketing
How to Learn
Recognize there are no good or bad experiences, only learning experiences.
Focus on what you can learn from every experience.
The more experiences you have the more you learn.
Never stop learning.
"In this world you're either growing or you're dying so get in motion and grow" – Lou Holtz
Model Successful Behavior
-There's not need to reinvent the wheel. The hard work has been done.
-Find someone successful in your company.
-Unlike other professions, successful people in your company are eager to share their secrets!
-Be a copycat, model their behavior and you can begin to enjoy their results.
Study
-Listen to audios. (books , podcasts & courses)
-In the car
-On the train
-While doing house chores
It will give you direction and continual personal development.
Listen to it over and over.
Ask the leaders in your company what they are reading. Become a reader if you are not. It's simple commit to reading 10 pages a day.
Believe it or not you would have read a 300 page book in a month.
Video
-There are ton of videos you can learn from on the internet.
Online
-Take advantage of online tutorials, watch online videos, attend webinars and watch events live. Like Facebook Live Streaming.
Events
Focus on a very narrow range of skills:
-Finding prospects
-Inviting
-Presenting
-Following up
-Closing
-Getting people started right
Take Action
-Do not wait for complete knowledge of a skill before taking action.
-Create a A Plan- Do – Review
1.Make a PLAN.
2.DO your plan.
3.REVIEW your results, good or bad, to see how you can do better next time.
4.Make a better PLAN
5.DO that better plan.
6.REVIEW those results, good or bad, to see how you can do better next time.
7.Never stop applying plan –do- review and you'll eventually become an expert through trial and error.
Teaching
-Teaching is one of the best ways to learn.
-If you really want to master something teach it to others.
-Teaching burns a groove in your brain like nothing else can.
-It keeps you sharp and on top of your game.
-Find someone to teach.
-Look for more opportunities to teach.
-You'll get the most benefit.
Your Associations
-According to Jim Rohn, the Law of Attraction that says you'll become the average of the 5 people you spend the most time with.
-You'll think how they think, act how they act, talk how they talk, and earn what they earn.
-Limit you association with negative people.
-Find someone who will push you.
Sad Reality
-Some people in Network Marketing become unhappy when they realize work is involved.
-Most join for a free ride.
-When they experience growing pains, they run for the hills.
-Be different!
-It might be hard work but it's good work.
-It's the best way for the average person to enjoy true freedom.
Network Marketing is not perfect, but better. -Eric Worre
Did you get value from this post? If so feel free to comment and share with your team.
Your Servant Leaders,
PS: Tired of Chasing Friends and Family? This $7 Training can help you get an extra 2-3 recruits in the next 14 days even if you are Brand New – Click Here to Grab your Copy
RECRUIT MORE - EARN MORE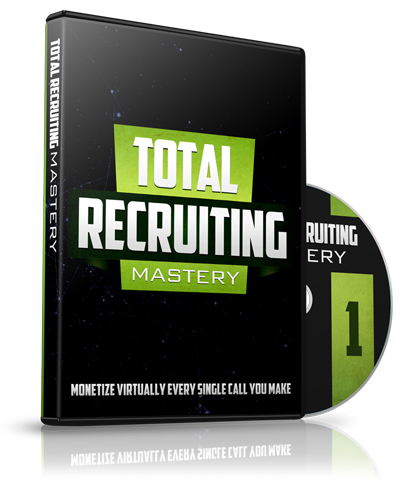 FREE Training: How a 7-Figure Earner made his first $100,019.32 with his Online Business - Prospecting Secrets Revealed!