Attraction Marketing, what is it?
Attraction Marketing can be used in any business, direct sales, mlm etc
It's all about having your prospects come to you.
However, Attraction Marketing is a choice, it's chemical.
Either you are attracted or you are not.
Think of when you meet someone. Either there is something that makes you want to connect with that person or you may not.
Attraction Marketing is Chemical.
Either it happens or it doesn't.
As Attraction Marketers, we are creating a spark that turns into fire.
Attraction Marketing is more about you than your prospect.
You stand still, become a lighthouse because your light is attractive.
There is no chasing involved. That's why I love it some much.
How Does Attraction Marketing Work?
First you lead with what they want – something that attracts them.
There's several ways to lead them to you.
Capture pages
Webinars
Chat-bots
Prospecting
Lead magnets
Second, expose them to what you have.
Products
Services
Coaching
Third, follow up over and over.
Auto-responder – email
Giving away content
Exposing people to your offer
Build a strong foundation/ following.
It's about you learning who you are and learning people.
With that in mind,  you are on your way to being a successful Attraction Marketer.
Did, you get value from this post? Leave a comment and do hesitate to share.
Abundance,
Daria and Willy Legagneur
516-531-3166
ATTRACTION MARKETING BUNDLE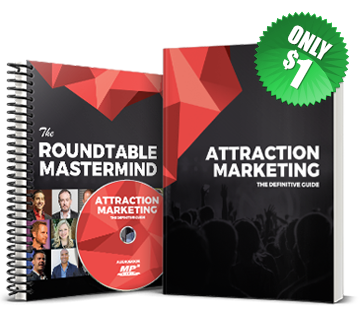 Get a 68-page "all-inclusive" e-book, 82-min mp3 audiobook, and a roundtable mastermind to help you attract buyers for YOUR business.