10 Cool places to go Zip Lining in the world
Want to know what it feels like to fly?
Zip Lining gives you the opportunity to soar through the sky and experience the world from above.
You get to escape from your every day life, step out of your comfort zone, and experience the thrill 
of a lifetime.
We list 10 hot spots to help you get your Zip Lining on.
1. Las Vegas – Zip ling with Flightlinez over the Mojave Desert.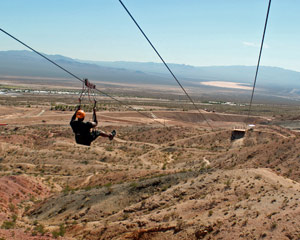 2. The Rain Forest in St. Lucia
3. San Diego, California – Zip line on the Flightline Safari located in the San Diego Zoo Wild Animal Park.
4. Maui Hawaii, check out scenery, unique forests and beautiful mountains from above.
5. Whistler, British Columbia, – glide over , creeks, through trees, see wildlife and see the beauty of the Cougar Mountain.
6. Zip 2000, Sun City South Africa – the highest, longest and one of the fastest. Reach speeds up to 100 mph. What a rush.
7. Arbortrek Canopy Adventures, Smugglers Notch, Vermont – Rated 5 stars by Trip Advisor.
8. Allure of the seas, Royal Caribbean Cruise ship – Zip line 9 decks about the ground from one end of the ship to the other.
9. Miss Sky Canopy Tour, Costa Rica – home the one of the longest canopy tours in the world. With 21 runs, views of waterfalls , river pools and spectacular forests.
10. Dragon's Breath Zipline, Haiti – Longest zip line in the world over water at 2,600 feet.
Ready to go Zip Lining in different parts of the world?
Like this post? Be sure to comment and share.
Connect with us on Facebook:
Comments
comments